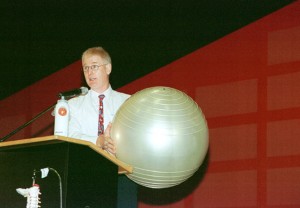 With qualifications in physiotherapy, sports science, men's health and business, Craig has enjoyed a stellar career as a leading sports physiotherapist not only in Australia but also internationally. Starting as a staff physiotherapist in a Victorian country hospital, he then moved into private practice and has been a director of several businesses over the last 30 years in Victoria, New South Wales and most recently on the Sunshine Coast where he was a director of Physiocare in Maroochydore from 1996 until 2008.  During this time Craig was invited to develop the Masters of Sports Physiotherapy course at Griffith University which he then convened for several years before being head hunted by Bond University as a clinical educator for their new physiotherapy school in 2007. He has been active as a leader in his profession at board levels with the Australian Physiotherapy Assoc., Sports Medicine Australia and Sports Physiotherapy Australia. He also found the time and energy to work as the Physiotherapist for the Flying Fruit Fly Circus and Coordinator of Sports Science and Medicine for Baseball Australia for 17 years  plus travel to four Olympic Games as an Australian Team Physiotherapist (Seoul, Barcelona, Atlanta & Sydney) where he worked with rowing, cycling, basketball, wrestling, baseball and celebrating.
Since retiring from clinical practice, Craig has been busy with his university work and developing his own teaching and publishing business (Redsok International).  He is in demand for national and international physiotherapy conferences where he speaks on clinical topics including men's health. His book, 'Book More Clients', is a popular business development tool and forms part of his reading list for the business development workshops he conducts for health professionals. These workshops have recently been revised and strengthened on the back of him completing an Executive Masters Degree in Business. He also speaks at non-physio events bringing his expertise in performance medicine to everyday health, business and performance.
Craig is a Fellow of Sports Medicine Australia, a Professional Member of National Speakers Assoc. of Australia, Assistant Professor at Bond University (adjunct), and a physiotherapy Practice Surveyor for Quality In Practice, a division of AGPAL.
A resident still on the Sunshine Coast (Buderim for 20 years) Craig is active with the Maroochydore Chamber of Commerce and the Buderim Men's Shed (where he is the coordinator of the Health & Well Being program).  He is married (Mary) and they have six adult children.